Building a fire pit space in your yard is a great DIY project that could be accomplished in a weekend if properly prepared. Good thing for you this article will teach you step by step how to build a comfortable and inviting fire pit space in your yard.
The first step in building a fire pit is to pick the spot you want and clear the area. You are going to need a rock base three to four inches thick so rip up the grass or whatever is there to create a three to four deep area for your firepit. Once your area is cleared you need to lay down a high-quality weed fabric on the bare soil. You should overlap the weed fabric by approximately one foot to create a good barrier.
After laying down your fabric, there are two main ways you can go about building a fire pit area with crushed stone. You can either clear a circle six inches to one foot larger than the fire pit itself (graphic below)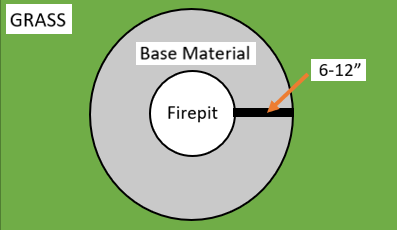 or clear the fire pit area and a seating area around it in any shape (photo below).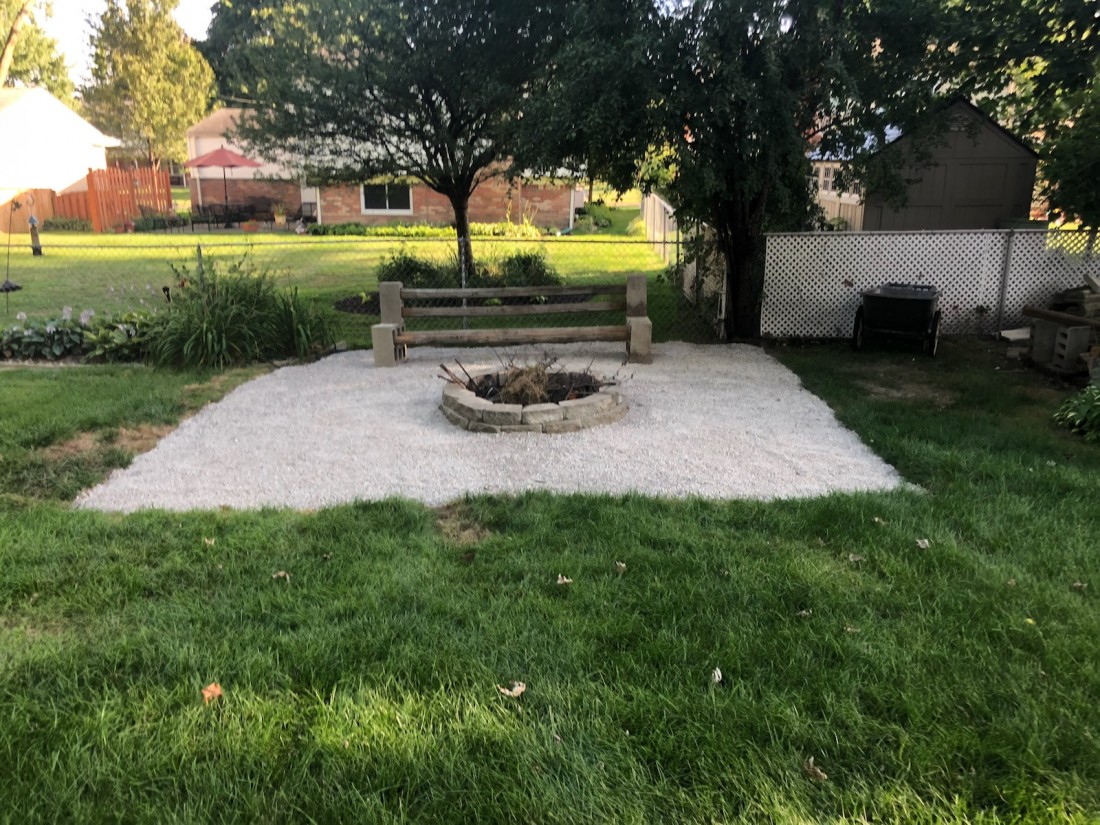 Once your area is clear it is time to pick out a crushed stone base for your fire pit area. There are a few different options that would work. Rock Shoppe offers products like ½" clean limestone or natural stone, decomposed granite or a variety of stone carpets for the aggregate base. Choosing between these products comes down to price and looks. After choosing a beautiful stone base for your pit all you must do if fill your cleared area with the stone.
The key in creating a strong and long-lasting base for your fire pit is compacting it down with a hand compactor (hand tamper). This will help lock the stone together and create a solid base for your fire pit area. So now that you have your base, how do you go about building a fire pit?
There are many different options for fire pit blocks from a variety of manufacturers available to purchase at the Rock Shoppe. One example would be a fire pit kit from County Materials (one example picture below). The blocks are simple to install. They simply stack like Legos, no mortar, pins, or glue necessary.
To top it off there are metal fire pit rings available that slip into the blocks which may help extend the life of the blocks. The metal insert is not necessary if you prefer the look without it. In the case of County Materials, they even offer a cap system for the fire pit, if you prefer that look (pictured below).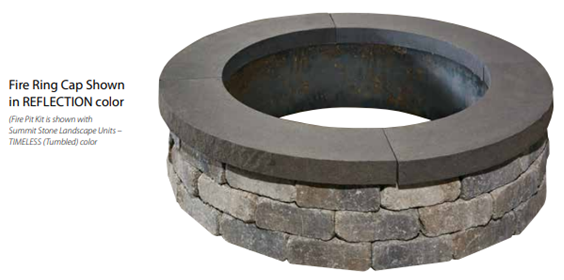 Rock Shoppe also carries fire pit kits from Fendt and Techo-Bloc. Some customers prefer one brand over another based-on price, styling, and colors.
If you are interested in building your own firepit in your backyard, give us a call (734) 455-5560 or visit our store in Plymouth so we can help you build the outdoor living space of your dreams.